UPT Micro Sigma tandem and Navigator/Vector student parachute systems for sale
---
Used UPT Micro Sigma tandem parachute systems for sale:
All used tandem rigs at Skydive Orange, VA, have original counts on their Cypres 2 jump counters. The drogues, risers and toggles are in excellent condition. All tandems include student harnesses, Sky Hooks, and Cypres 2's, or we can arrange for Vigil AAD's if you prefer. I suggest you come by and take a look at the condition and you will see that they are a great deal for the price. Always packed inside on packing mat out of the sun. Shipping cost is not included. These are in great shape, currently in use here in Orange, VA. Shipped with the seal removed, but ready to go to work for you after your rigger inspects and repacks! Email skydive@cfw.com with any questions, or to be notified of other used rigs for sale. It seems our reputation for selling great quality slightly used tandem and student parachute systems has gained the trust of buyers in the skydiving industry- our used rigs sell pretty fast. Ask about multi-rig discounts.
Just updated 01/10/2019 NEW LISTINGS!!
USED Complete Micro Sigma II 340 Tandem system, "MS-80" has about 445 jumps on the rig according to the jump counter, except the Microsigma MAIN canopy has only 200 jumps on it, AND the drogue is brand new! No reserve rides, DOM April 2017 and later. Complete with Cypres 2* Ready to work for you next weekend! - $12,500 UPDATED January 10, 2019

Email skydive@cfw.com with any questions.
---
---
*or we can arrange for a new Vigil 2 instead!
The ones shown below are sold, but we occasionally have others available, check back for details as they become available, Email skydive@cfw.com with any questions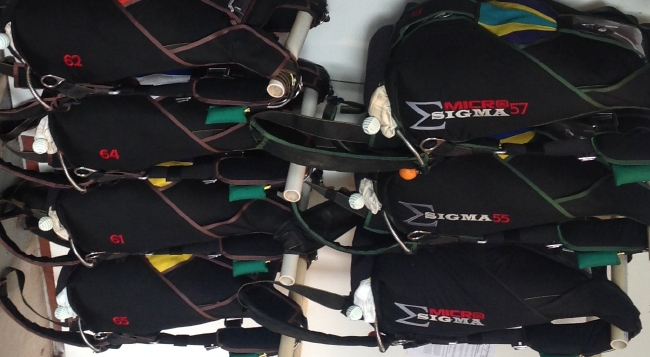 Email Us skydive@cfw.com to be notified when more good used rigs available.